Soft seersucker fabric
can be soft, but it depends on the specific fabric and how it's made. Seersucker is a lightweight cotton fabric that typically has a crinkled or puckered texture. This texture is created by weaving the fabric with alternate slack and tight tension threads, resulting in a bumpy surface.
The softness of seersucker can vary based on factors such as the thread count, the type of cotton used, and the finishing processes used during production. Some seersucker fabrics may feel soft and comfortable against the skin, while others may feel more coarse or stiff.
In general, seersucker is known for being a breathable and comfortable fabric, especially in hot and humid weather. Its unique texture also gives it a distinctive look that is often associated with summertime clothing.
Three-dimensional 100% polyester chemical fiber seersucker home textile fabric is soft and skin-friendly, strong and durable, various colors can be dyed microfiber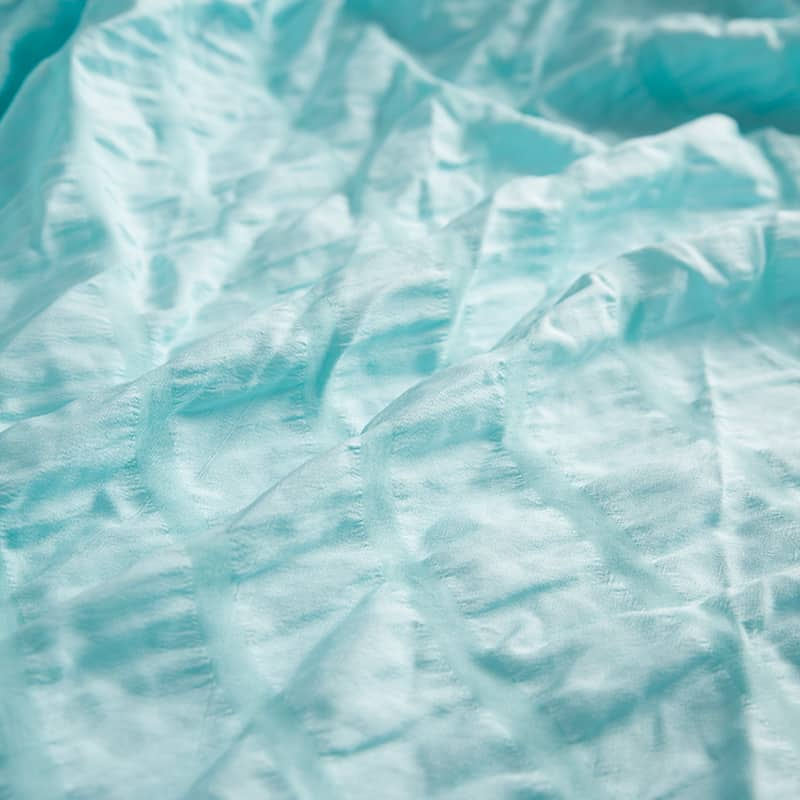 Polyester seersucker fabric is woven by polyester yarn. In the process of grey fabric weaving, the weaving direction of the fabric is changed, and the foaming effect is produced after processing. The surface of the fluffy fabric is more three-dimensional. Dyeing and printing can also be carried out according to the customer's sample, with soft hand feeling and good fleece feeling. Polyester is the world's largest and most widely used synthetic fiber variety, and polyester accounts for more than 60% of the world's synthetic fiber output. It is widely used in textiles such as clothing, bedding, various decorative fabrics, and special fabrics for national defense and military industries. It has high strength and elastic recovery capabilities. Therefore, it is durable, wrinkle-resistant and iron-free. Almost no drop, no deformation, and good wash-and-wear performance. Good light fastness, in addition to being worse than acrylic, its light fastness is better than that of natural fiber fabrics. Especially the light fastness behind the glass is very good, and various chemical properties are good. Acid and quinine are not very damaging to it, and they are not afraid of mold or insects. It is the best choice for raw materials for home textiles and garments.
Most of our polyester fabrics are used in the production of home textile products, which are the raw materials of home textile products. There are thousands of design drawings for customers to choose from. They have a soft feel and strong quality, and can provide products of different specifications according to customer needs.